Welcome to the Paladins Wiki
Paladins: Champions of the Realm is a team-based shooter currently under development by Hi-Rez Studios. The game is currently in open beta and a Founder's Pack is currently available on the Official Web Site . This wiki is a collaborative resource for the game and is maintained by the contributions of fans. Everyone is welcome to join our community!
About
Paladins is a team-based shooter with deep strategy elements and in-match character progression through decks of collectible cards. These cards amplify and augment a character's core set of abilities in many interesting ways. Paladins is free-to-play and includes 5 starter champions. Additional champions can be unlocked in-game and are available to all players during Free Play Days. Founder packs are still currently available for purchase. Paladins released to Steam Early Access on September 16, 2016.
Featured Videos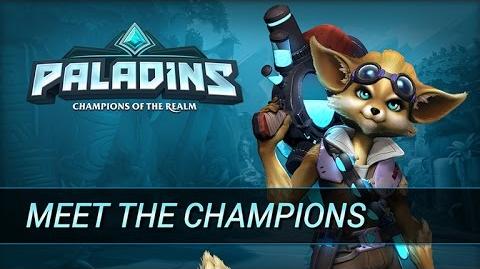 Champions
Featured Images
Twitter
Blogs and News
Ad blocker interference detected!
Wikia is a free-to-use site that makes money from advertising. We have a modified experience for viewers using ad blockers

Wikia is not accessible if you've made further modifications. Remove the custom ad blocker rule(s) and the page will load as expected.